You are welcome here.
That's right, you, reading this screen right now. You are welcome here with us. No matter what your situation is right now, you are welcome to come hang out with us.
When you do you'll be greeted with love, encouraged to pursue your dreams, and reminded that there is always hope. Your situation is never as hopeless as it may seem.
We have a belief based on the bible verse that says, "Love the Lord your God with all your heart, all your mind, all your soul, and all your strength and love your neighbor as yourself" that we are in fact supposed to live that out. Crazy, right?
Not at all. We figure that love is what is going to change hearts, change minds, and ultimately transform lives. So we like to lean heavy on loving people.
Now you may wonder, how can we help? We help our Cullman County neighbors in several ways including: creating goals, providing referrals to other non-profits, agencies or ministries in the local area, we can provide a hot shower to anyone who needs one, and we host a Community Meal every fourth Thursday of the month to build friendships.
And coming Spring of 2019, we are partnering with Daystar Church to now be the host of Master's Hands, a food ministry to support the food insecure families of Cullman County and beyond. We are so excited to be able to meet these families and start to build relationships with every last one of them.
That is just some of the many ways we are passionate about serving our neighbor. If any of that sounds good to you, then come on by. Want to know about the other ways that we like to love our neighbor, then check those out on the navigation.
We all have struggles. Life can be hard. But you don't have to do life alone. Come see us today.
ENCOURAGERS
Want to be an encourager to one of our neighbors?  All it takes is a heart for people, a willingness to connect via phone or card, and a desire to speak hope and life into another.
Volunteer to be an Encourager today.
MASTERS HANDS VOLUNTEERS
Do you like to work behind the scenes? We need people to help us prep bags for distribution each month. Or maybe you like to be able to meet one-on-one with people, we need you too!
Volunteer to serve with Master's Hands today.
---
"The Gathering" Community Meal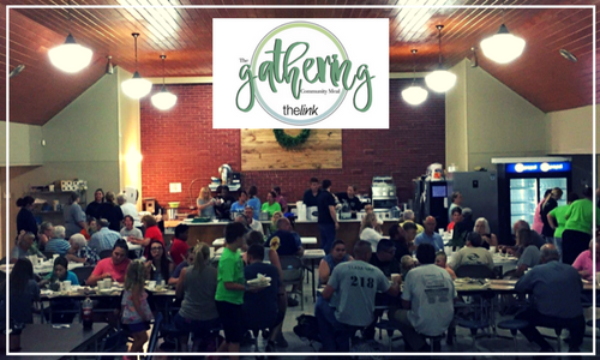 Join us the fourth Thursday of every month to eat with your neighbors at our "Gathering."
Whether you are an individual or family in need or wanting to volunteer your time, this meal is open to all. If you are a local church or organization and would like to help supply food and/or hands to help, please contact Paige Williams, Lead Encourager for more information at paigewilliams@linkingcullman.org or 256-775-0028.
Check out our calendar to learn when our next Community Meal will take place.