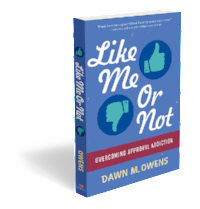 "Hi. My name is… and I'm an approval addict."
Everyone craves approval, but there is a difference between being someone other people like and being defined by what others think. When our people pleasing becomes an addiction, it's time to take a closer look at who we are trying to please and why.
Like Me or Not offers sound, biblical strategies to overcome approval addiction. Inviting us on her own recovery journey, Dawn Owens provides thoughtful and practical tools we can use as we navigate insecurity, rejection, and the comparison trap. With surprising candor, Dawn will show you how to surrender to God's will, instead of the approval of others.
Join us for this 13-week small group and delve into the pages with the author, Dawn Owens. Books will be available at the site for purchase or scholarship or you can bring your own.  If you need a scholarship, please email Leslie Hancock at lesliehancock@linkingcullman.org.
Small Group begins: Tuesday, September 4th from 6 PM - 7:30 PM
Location: The Link of Cullman County 708 9th Street SE, Cullman, AL 35055
Questions? Call us at 256-775-0028 or email Leslie Hancock at lesliehancock@linkingcullman.org